Racial justice.
"It was a scam in the 70's that just went wrong."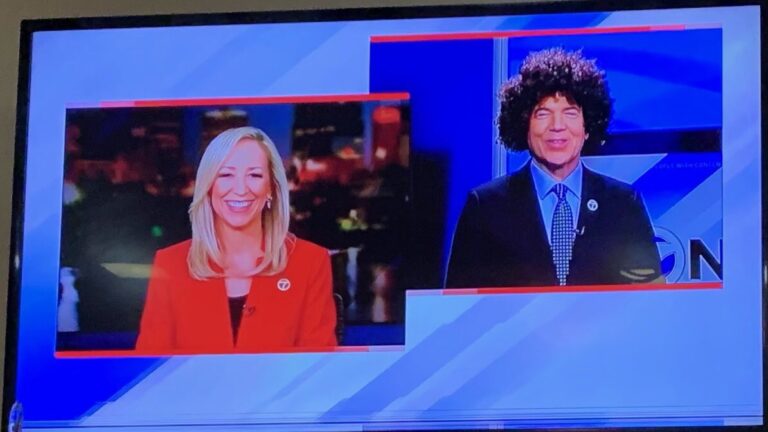 The heat lasted a long summer siege against Little Rock, with average high temperatures reaching 90 degrees in July. On September 1, the city hit three digits for the first time in more than three years. Authorities opened a cooling shelter. He urged people to check on children and the elderly to ensure they do not have heatstroke or die.
Then, in mid-September, a cold front was ready to dissipate the heat and bring the temperature down to 70s. The local television station's ATV has decided to celebrate with Wordplay in the "Return to the 70s" section, which features celebrities from the 1970's on-air sports. They may have chosen a tie-dye t-shirt or a symbol of peace under the bell.
Instead, two white journalists wore Afro-shaped wigs.
The result was sharp and intense, exposing the TV station's ongoing struggle to combat racism. Sinclair Broadcast Group executives apologized for the "poor decision" that gave rise to the class, fired the station's longtime news director, Nick Genti, and indefinitely anchored and meteorologists Chris May and Barry Brand. Suspended for those who wore wigs.
"It was just a bad decision," Sinclair vice president and group manager John Sabers told the Washington Post. "It was a scam in the 70's that just went wrong."
Like KATV, Newsrooms across the country are less diverse than the US workforce as a whole. And for decades, some journalism leaders have said they want to change. Efforts to diversify newsrooms have intensified in recent years, boosted by the racial reckoning facing the country following the May 2020 assassination of George Floyd by Minneapolis police officer Derek Choon.
"Just as protesters have been affected by Floyd's death in demanding reform, so have journalists in their workplaces." The Post reported a few weeks after Floyd's murder.. Months later, in October 2020, less than half the world. Newsroom leaders surveyed by the Reuters Institute reported. Working well with "ethnic diversity", compared to 80% when it comes to "gender diversity".
At Little Rock, local activist Anika Whitfield "did not please" the 70's class, saying that a white man wearing an "Afro wig" was committing "military racism." He then complained to the KATV administration, The Arkansas Times reported.. When he did not answer, according to the paper, Whitfield went to the Sabers, who quickly returned to him.
"We apologize to all viewers who have been genuinely angry with the class, and we promise to implement and enforce new measures to prevent future incidents," Sabers said in a statement.
The ship – which oversees Sinclair stations in Arkansas, Texas and Oklahoma – after meeting with the Central Arkansas Association of Black Journalists. Accompanying him was Blaise Lebe, Sinclair's regional news director, who is in charge of the deposed Genty at KATV, while the company is looking for a permanent replacement. When contacted by the Post, Gantti declined to comment, and Brandt did not immediately respond to requests for comment.
During a meeting with black journalists, Sinclair's representatives offered no excuses and criticized what happened. The Arkansas Times reported.. The ships called the wig class "disgusting" and "immature." "It was stupid," Libby said. Was particularly angry Given that KATV staff completed two racial sensitivity training sessions in the six weeks before the wig section.
"How could this be in hell?" He told the meeting, according to the Times. Libe acknowledged Sinclair. There are some critics According to the New Yorker, after employees were reportedly ordered to air biased classes and interview questions were asked in favor of Republicans.
KATV specifically, Sabers told The Post, responding to a recent employee report. Mami doll Racist image of black women
The company investigated most of June but did not know who kept the doll there or why. But, Sabers admitted, the doll was "racist and aggressive."
Because of the dolls, managers gave a formal presentation to all KTV employees in July, training them to engage and hide prejudice, Sabers said.
The Afro incident was further investigated on the news station. After the on-air display, Dorothy Tucker, president of the National Association of Black Journalists, noted that the station employs more than 40 people, of whom only eight are black. That's less than 20 percent of the city's staff, with 42 percent of the population black. And, he told The Post, all KATV managers are white, as confirmed by Sabers.
Sabers said he wants KATV to hire more black journalists, and Sinclair recruits 18 historic black colleges and universities to make that happen. Sabers said some black college students wouldn't see journalism as a viable career if they didn't see people like them on their TV screens.
We are trying to make minorities feel better. . . He said that journalism is the field of his career.
Sign up for the newsletter
Stay tuned for all the latest Boston.com news.