A 97-year-old woman was rescued by some friends and neighbors from her burning house when they took her out of the house to a chair in the living room. Moments later, he had a heart attack in the driveway across the street.
A passerby, Lariana Garvis, filmed the entire incident in Nashville, New Hampshire on Friday. Garvis said. WMUR She was driving home when she saw flames blowing out the windows. At the same time, another driver and a neighbor kicked the door and grabbed the old woman from her room – who is still in her chair.
In the video, Garvis can be heard shouting "We found you" as he ran towards the house fire. From the outside, flames were visible from inside the house as they came out of the broken windows. Two men appeared at the door, carrying the elderly woman to their green velor chair.
"We found you," Garvey repeated. Rescuers escorted the woman across the street and made sure her dog escaped the fire. Everything seemed fine, but then the chaos resurfaced in the video.
"Is that okay?" Garvis asked the rescue team, which is now surrounding one of the neighbors. One passerby was spotted on the phone, while the other two men supported him as he fell, supporting his weight. When firefighters arrived, they told bypassers that the man had suffered a heart attack.
"Is he breathing?" Garvis asked in the video before tossing his phone and starting compression. "Listen man, I said you saved him, you're not dying," Garvey told WMUR. The man was then taken to a local hospital where he is recovering. The man has not been identified, but Garvis told the WMUR that he spoke to him on Saturday and that he was doing well.
"He said I don't remember, but I love you," Garvey told WMUR. "The whole situation was terrible, but everyone was there at the right time," he said.
"Everyone can be a hero every day," he told the WMUR. "You never really know what's going to happen to you." I was just driving home and I saw him. "
It was not immediately clear what caused the fire inside the woman's home, and an investigation is under way.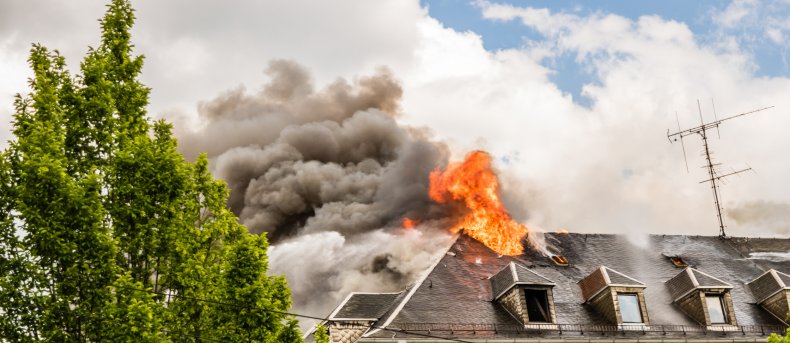 In july Newsweek Describes a Florida man who survived a house fire when his dog woke him up. Joel Rosa woke up one morning at about 3 o'clock to bark at his dog Maggie. Just then he saw that the house was on fire after a lightning strike.
Rosa managed to get it out safely and called the local fire department. When firefighters arrived, part of his home collapsed due to the force of the fire. According to officials, 80% of his house was burnt down.
"Oh, he's my hero. I love my dog. It's amazing. I would say he saved my life," Rosa told WMTV, praising her dog Maggie.