His neighbor was killed in front of his house. Now, this chef helps fellow immigrants find freedom.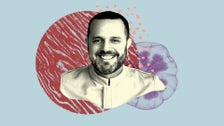 Although his culinary skills are well-known, many people may not know that Limardo came to the United States to escape the violence and corruption in his native Venezuela. The chef may now be firmly on his feet in America, but he hasn't forgotten his roots or the hardships he's faced, mentoring other chefs in Venezuela as well as a number of non-governmental organizations (NGOs). GO) has fueled the passion to work with. through Immigrant food, DC's first "gastro advocacy" restaurant. In this edition of Sounds in foodLimardo explains why it's important to him to support all immigrants, not just immigrant chefs, and how he's using food as a vehicle for change.
When I came to America in 2014, I left everything behind. In Venezuela, I had my own restaurant, and my whole family was there, including my wife and two children. But political corruption not only created huge financial difficulties but also made it difficult to survive for a long time. My neighbor was killed in front of my house. After that, I knew I had to find a way for my family and I to leave Venezuela.
I came to the US on a tourist visa and then later got an extraordinary talent visa, which allowed me to stay longer. The first six months were difficult for me. My father, mother, wife and children were always in my mind. I was completely out of my comfort zone, and everything was a struggle. But people helped me, and I was able to start working, eventually bringing my wife and children back after a year.
I didn't get to where I am today on my own, which is why the mentorship of other chefs is so important to me. Now, I am in a position to help people who are in the exact same place I was seven years ago. I was living in Baltimore and working as the executive chef at Alma Cucina Latina when I came up with the idea of ​​an internship program for Venezuelan chefs. Under the program, people in Venezuela were allowed to come to the United States on tourist visas and work in restaurants. Intern applicants were students attending good high schools or universities, or those already working in a restaurant there. Once they got here, I started mentoring them, and they became a really good team to work with.
One person who was part of the internship program is Chef Mile Montezuma. After her internship, she followed me to Washington, DC, where I hired her as head chef. Immigrant food – DC's first casual-casual restaurant celebrating immigrant stories through gastro-advocacy. Basically this means that the restaurant uses food as a way to uplift immigrants by partnering with NGOs. The food on the menu draws inspiration from all over the world: dishes like Indian samoas, Latin wontons and Ukrainian salads. Right next to the food menu is an advocacy menu with fundraising opportunities.
The chefs who come to America through the internship program are like family to me. I hear their struggles, and they know I understand because I've been there too. I understand the violence and corruption they left behind. I understand that they are worried about their mother and father. I understand that they are sending more paychecks home to support them. I understand the slow, impatient wait for a green card.
About 6 million people have left Venezuela.making it one of the largest displacement crises in the world. As of October 2021, approximately 100,000 have registered with US immigration agencies. Many are bused from the border to DC, where I live. They get off the bus, have nowhere to go and often don't know English. Each week, I and other restaurant workers at Seven Reasons and Imperfecto drop off meals for them at a few different locations, including churches and Union Station. It's a way to not only give them something to eat, but also to give them some hope.
Food is not just about nutrition or taste. It is those things, but it is also a reflection of culture and can be used to incite change. Amazing things can happen when you cook or share food with someone. You can change someone's whole world.
!function(f,b,e,v,n,t,s){if(f.fbq)return;n=f.fbq=function(){n.callMethod?
n.callMethod.apply(n,arguments):n.queue.push(arguments)};if(!f._fbq)f._fbq=n;
n.push=n;n.loaded=!0;n.version='2.0′;n.queue=[];t=b.createElement(e);t.async=!0;
t.src=v;s=b.getElementsByTagName(e)[0];
s.parentNode.insertBefore(t,s)}(window,document,'script','
fbq('init', '1621685564716533');
fbq('track', "PageView");
var _fbPartnerID = null;
if (_fbPartnerID !== null) {
fbq('init', _fbPartnerID + ");
fbq('track', "PageView");
}
(function () {
'use strict';
document.addEventListener('DOMContentLoaded', function () {
document.body.addEventListener('click', function(event) {
fbq('track', "Click");
});
});
})();
#neighbor #killed #front #house #chef #helps #fellow #immigrants #find #freedom

Source link